Where did this week go? I feel like I just posted Good Reads on Monday and now it's time for Friday Faves.
It's been too busy over here to bring you any other posts this week even though I have so much in my head I want to put down in words. For now, I'll settle for sharing some little blips from this past week in favorites.
1. Pilates, Pilates, Pilates!
I'm really focused on getting my teaching, observation and personal practice hours in so I can complete my certification, so this has been taking up a lot of my time. This week I taught two classes to friends and family, took one class of my own and watched some video classes for observation.
In March, I'll be getting my very own class at the Y, which I'm super excited about!
2. I'm Fit Possible
In other exciting news, I'm happy to announce that I've been selected to be an I'm Fit Possible ambassador! I'm Fit Possible is "…a fast growing group of fitness and wellness enthusiasts that are socially focused, creative and yes, a little sassy." It's a community that sets out to inspire others, which is exactly what I hope to do for you!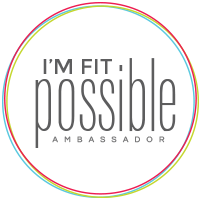 3. Swinging with my girl
At the park, Emme prefers to sit in my lap on the big swing instead of sitting in the baby swing by herself. Can't say I mind that at all.
I love the swings, so even better when I get to snuggle with my girl. Have I mentioned how snuggly she is? The best.
4. Stitch Fix
If you haven't heard of Stitch Fix (referral link), they are a personal styling service. You tell them your size and a little about your style and they send you a package of cute clothes. I hadn't scheduled a fix in a few months, but since I had a credit (thank you, friends!) and could use some new clothes for my videos (that's my YouTube channel–it will be more developed someday!), I scheduled one this month.
It was fun receiving a cute package from them again with some fun things to try on. They haven't always hit the nail on the head, but they did pretty well this month. I really liked the personal note from the stylist and the outfit suggestions are always helpful. I ended up only keeping one thing (you just put the rest out in the bag they provide for the mailman to pick up), but I almost kept three–I ultimately decided I wouldn't get so much use out of the other two shirts even though they were cute. Looking forward to my next fix!
5. Romanesco Cauliflower
Have you tried this yet?
I love it roasted and it's so cool looking. Simple recipe coming soon!
What are your favorites this week?
Happy weekend!
You might also like
»
New Mom Fashion and Body Image
»
Good Reads
»
France Vacation Part I: Flying Internationally with Kids
»
Friday Faves
»
Working Our Way to Healthy